Assisted Living Locators Clearwater
About Me As the owner of Assisted Living Locators Clearwater, FL, I provide a no-cost senior placement and referral service to my local community, offering the best care options, information, and resources available. With over 30 years of experience as a marketer, I have excelled in streamlining marketing and business development processes. Before joining Assisted Living Locators, I operated my own consulting business, assisting firms in the architectural, engineering, and construction management sectors. My passion for serving seniors is deeply personal, stemming from my own experience navigating the process of selecting an assisted living facility for my mother. As a member of the Assisted Living Locators team, I look forward to providing personalized solutions and support to seniors and their families in Clearwater, FL, and the surrounding communities.  My areas include Clearwater, Largo, Seminole, Belleair, Belleair Bluffs, Indian Rocks Beach, Indian Shores, Redington Shores, Redington Beach, North Redington Beach, Madeira Beach and surrounding areas.
My Promise to You and Your Loved Ones - Assisted Living Locators provides a purpose-driven and highly personalized process to help put your loved one in the best place possible to lead a fulfilling life for as long as possible.  I promise to be an integral part of this life transition by being the most dependable and knowledgeable local resource for you and your loved one. I will work every day to address your personal needs, none more critical than finding the ideal home tailored to your required health care, preferred location, and financial situation.
Our services are at no cost to you - Exploring senior living options can be confusing and time consuming. Assisted Living Locators® Care Advisors are in your community and work closely with you to guide you through the process from beginning to end—answering your questions and addressing your concerns, helping you feel confident and comfortable with your decisions.  While other services simply provide mountains of information and leave it to you to sort your way through the maze of housing options all by yourself; I will provide relevant insights, local first- hand knowledge, availability and personally accompany you on the property tours as we evaluate your options together.
My service is provided to you free of charge. Assisted Living Locators is your committed and compassionate partner throughout the placement process.
How we help you and your family - Our care advisors take a 4-step approach to guiding you through the process of finding the best senior living option.
In-Depth Assessment of Your Needs - Discuss your needs (in-person or by phone) to learn how we can best serve you.
Thoughtful Analysis & Recommendations - Provide a customized plan to match your particular needs.
Assistance with Selection Process - Hands-on help and guidance as you review services and amenities, and tour care options.
Transition Support - Caring support to make the move smooth and worry free, as well as follow up support to make sure that your expectations are being met by the community or home.
What to Expect When You Call Us - We want to learn as much as we can… We dig deep with you to really understand what your family needs both for a new living situation and for other support services.
Our Individualized Assessment - An Assisted Living Locators® care advisor will meet with you and your family to discuss available and appropriate options. We evaluate all aspects of your senior situation to find the right match, whether it's health care needs, religious and political affiliations, mobility requirements, budgets, desired social activities, locations, or the 1001 ways that make your senior unique.
We Are Your Comprehensive Guide - We are committed to being compassionate and concerned with the needs of our clients. We are your comprehensive guide to matching the care you desire with the living options in your community. The communities in our network reimburse for our services so that we can remain at no cost to you.
Finding the Care that is Right for Your Family - When we evaluate a senior living community, we examine not only the amenities, but also the special features and characteristics. After we verify the services, you need are met by the community, we consider the unique aspects that will make the difference in selecting a home best suited for your loved one.
Testimonial...
Kristin went above and beyond for our family. Not only were we able to find a place that was perfect for my Dad, but she was kind enough to help us with planning for his insurance & setting us up with local businesses to help with the moving process. I don't believe I could do this process without her help. It has been a joy having someone who genuinely cares for those around and helping families during this challenging time. Although it was a huge learning experience, with Kristin's help we were able to find the perfect place for our Dad! Ashlin Dal
Contact Information
Kristin Downer, Senior Living Advisor - Owner
(727) 608-8959
[email protected]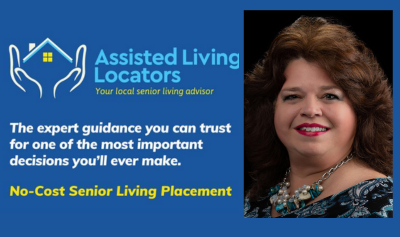 Social Profiles